Details
/*Due to limited quantities, in order to allow more people to enjoy this promotion, each customer is limited to purchasing 2 items.*/
What size should I get?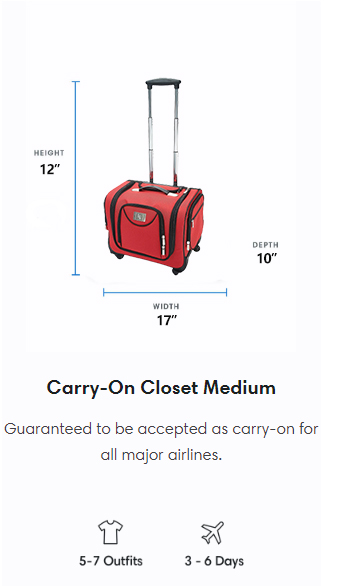 Go ahead and book that weekend away. This travel bag will keep your clothes and essential toiletries organized and easy to transport.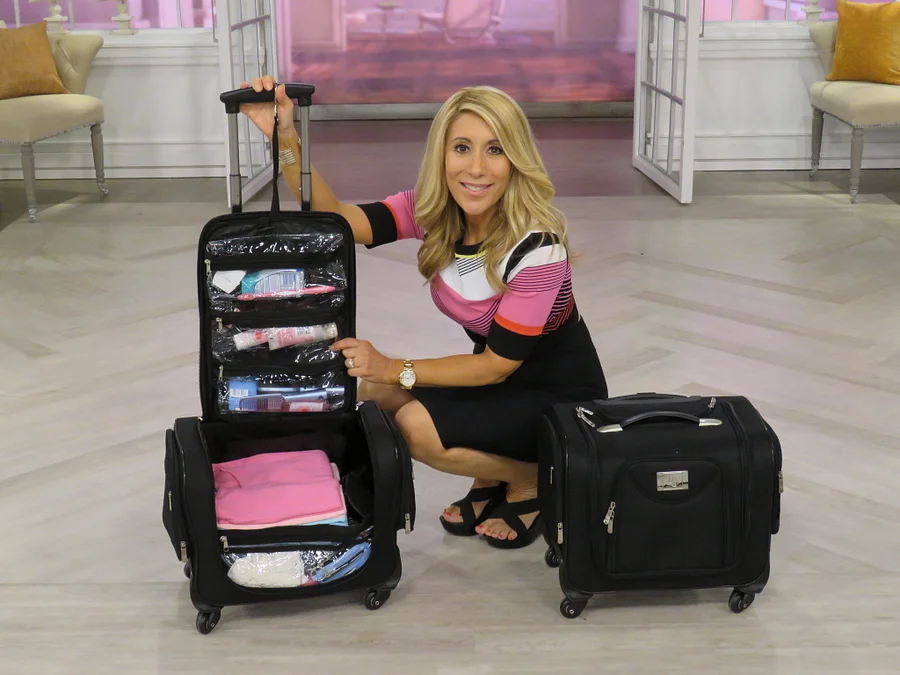 Make a quick getaway! Sized just right for short-term trips, this roomy slimline weekender bag helps you pack smarter with a toiletry case that snaps into the lid, a built-in cosmetics organizer for essentials at a glance, and an electronics pocket to keep your devices accessible. It's also a breeze to pull through an airport or busy city streets thanks to a telescoping handle and 360-degree multidirectional wheels.
FEATURES:
Includes weekender bag with snap-in toiletry bag
Toiletry case: hanging hook, divided compartments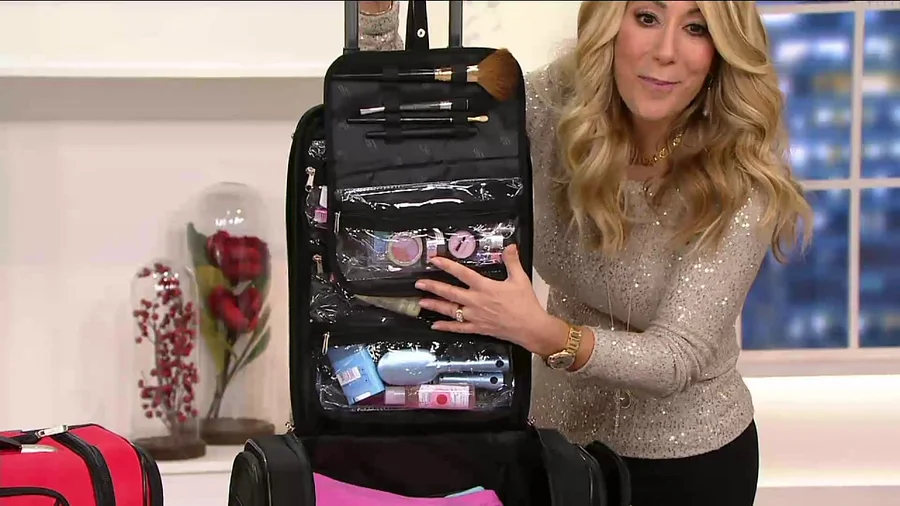 Built-in cosmetics case in lid
Mobile device pocket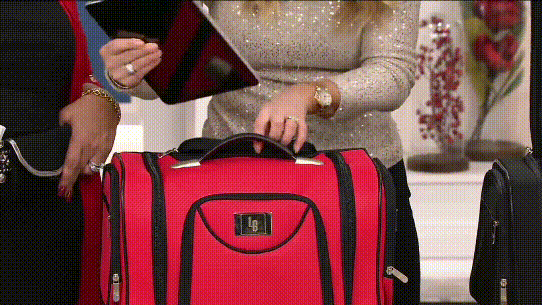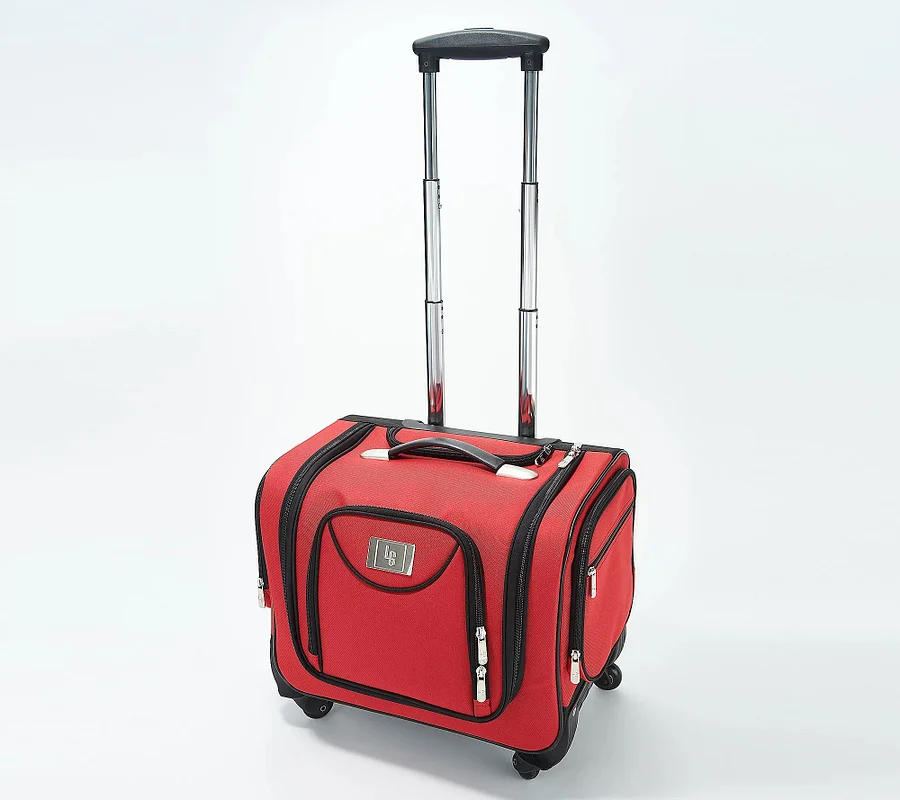 360-degree multidirectional wheels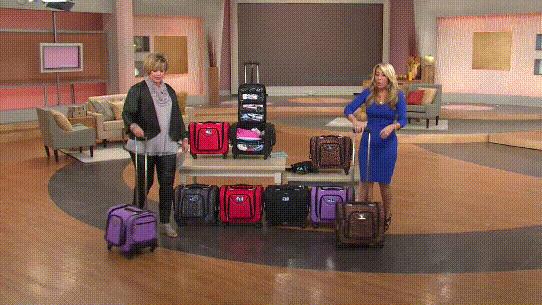 Whether you're planning a quick road trip to the nearest beach or a much-needed couple's getaway, spending a few days away calls for a sturdy, stylish, and functional travel bag. The best weekender bags are roomy enough to carry your clothes, toiletries, and a pair of shoes or two, but not so bulky as to slow you down while dashing to catch a train, or take up an exorbitant amount of space in your trunk. A separate compartment for dirty clothes or shoes is always welcome, too.
Approximate measurements:
Travel bag: 17"W x 12" H x 10"W with 2.5" handle drop;
weighs: 7lbs, 6oz;
Telescoping handle extends to 41"H
Q & A:
Q: Is this carry on size for flights?
A: Yes. It will go as carry on. Not fit under the seat but will go in over head compartment on plane.
Q: Is there a laptop compartment?
A: The front section could hold 13 in laptop.
Material:
Shell/lining 100% polyester; pocket 100% PVC
Wipe clean with damp cloth

💰 Money Back Guarantee: If the product is damaged or defective, we will replace it or refund your money within 60 days of normal use.
📩 24/7 Customer Service: Our customer support team is online 24/7 to answer all your questions.
🔒 Secure Payments: We use the most advanced SSL encryption technology to ensure 100% protection of your personal and financial data.
🪐 We work directly with manufacturers around the world to ensure the best quality products in the world. We also have a dedicated quality control department to help us deliver on our promises!
🥇 Our prices are competitive from start to finish. We guarantee that we will spend money on product production and quality control.

Factory Outlet Shop
Local factories and warehouses affected by the epidemic are selling supplies at low prices
If you're not satisfied with your purchase for any reason, our return policy allows you to send back returns-eligible merchandise within 30 days of the date you received the package for an exchange. Simply use the Q Return Label within 30 days of receipt to return your item for a free replacement of the same item in a different color or size. If your request for an exchange results in any additional merchandise or shipping costs, and you paid by credit card, your credit card will be charged for those additional costs. Payment methods other than a credit card may result in an order cancellation & a refund may be issued. If the requested exchange is no longer available, including items on waitlist and advance order, will issue a refund and not deduct the Q Return Label fee.
🌈 Good motivation
After every order, we give you 10% of the profit to Save the Children.
Save the Children started working in this area in 1932 to support the most isolated and neglected rural children in Europe.